This summer our troop will continue its unique, 50-plus-year tradition of building its own summer camp at a lake in the high Sierra.  Summer camp offers Scouts waterfront activities, navigation & ropework skills, working with others in their patrols, campfire experiences and having lots of fun, all in a beautiful wilderness setting.
Some advancement opportunities will include a 5-mile troop hike, First Class orienteering course, Trail to First Class requirements and over 20 merit badges, including Camping, Canoeing, Communications, several crafts merit badges, Emergency Preparedness, Environmental Science, Fishing, Geocaching, Lifesaving, Nature, Orienteering, Photography, Pioneering, Sailing and – of course – Swimming.
There will be patrol contests such as canoe races, wood chopping and the two-man saw.  The Scouts enjoy games like Kajabe Can-Can, Two Ball and the very popular White Bomb.
Every year, it's a great experience!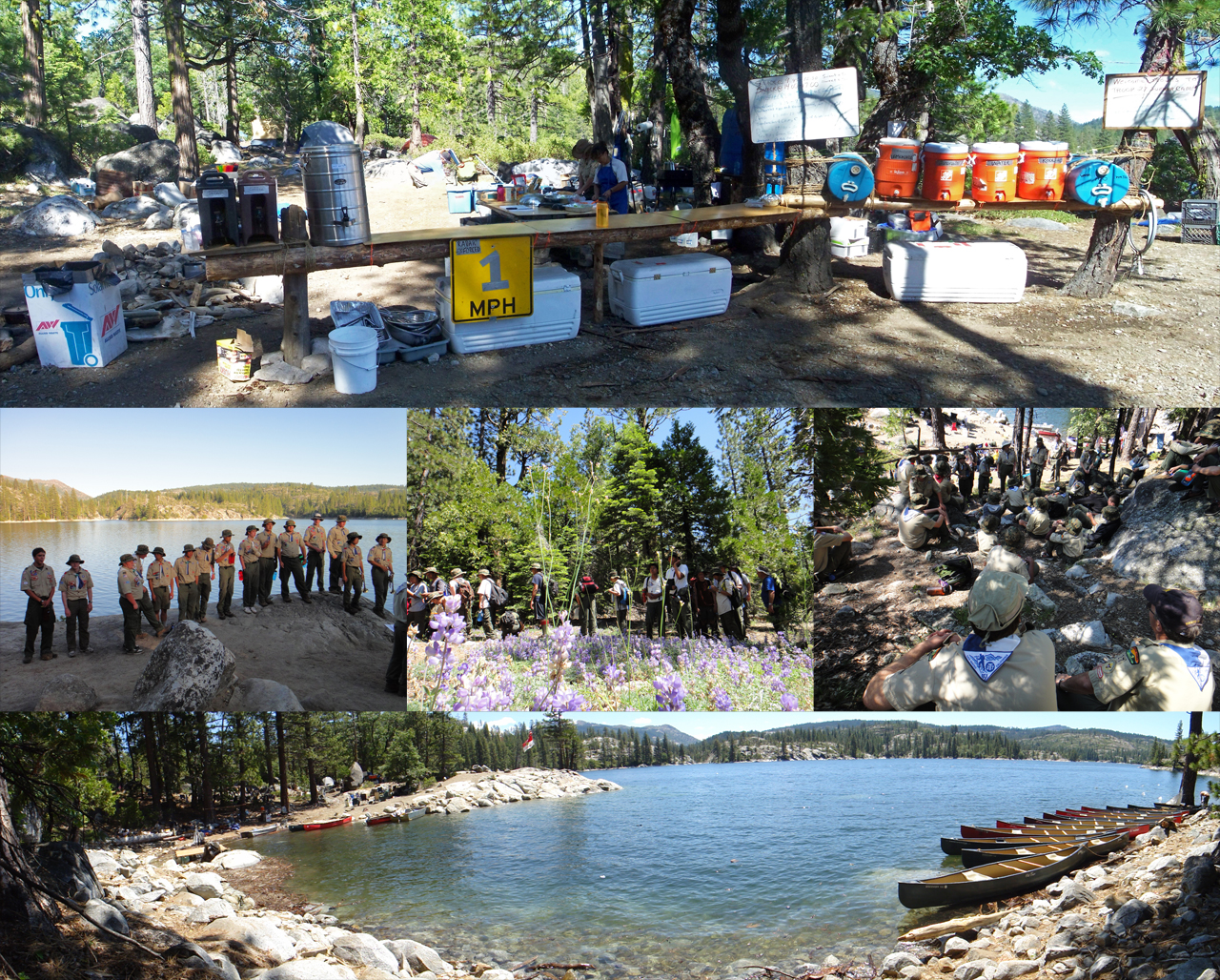 [divider top="0″]
Location
Although the specific location of camp will not be determined until the advance camp party acquires a site and sets up the necessary facilities, the planning committee targets Loon Lake in Crystal Basin recreation area of the Eldorado National Forest for this year's camp.
[forecast location="38.99,-120.33″ caption="Current Forecast for Eldorado National Forest" measurement='F' todaylabel="Today" datelabel="%%weekday%%" highlow='%%high%%°/%%low%%°' numdays="3″ iconset="Incredible" cache="true" width="80%"]
[divider top="0″]
Dates
Sign up now to reserve your place!
May 6
Registration begins
June 14
Registration ends
June 17
Meeting for all adults who have never been to our summer camp before – all other parents also welcome
July 9
Donations requested by this date
Backpack inspection & sequestered at meeting
July 16
Remaining backpacks inspected & sequestered
July 17
Advance camp party (ICs, crew, etc.) departs for camp
July 20, 7 AM
Scouts leave for camp; meet at church
July 27, evening
Everyone returns from camp to church
July 28, 10 AM
Summer Camp clean-up at church.  Every scout attending camp and at least one of his parents must help clean and store gear after arriving home.  Thanks in advance for your help!
[divider top="0″]
Responsibilities
ICs (Instructor Corps): selected older scouts
Rovers: young adults who are former T27 scouts
ASMs (Assistant Scoutmasters): registered, trained adult leaders
Summer camp activities and events are managed by the ICs, who are assisted by Rovers and ASMs.  Scoutmaster Calvin Yuen is responsible for the scouts, Camp Director David Frydenlund directs the ICs and Rovers, Steve George is the Trail Boss and the kitchen is managed by Debra Gruber.  All participating adults help operate the camp and are encouraged to help with advancement.
[divider top="0″]
Requested Donation
| | |
| --- | --- |
| Scout; price includes a camp hat | $275/week |
| IC | $150/week |
| ASM, kitchen staff or Rover | $50/week |
| Advance camp-only participant | no charge |
| Other adult | $25/night* |
*A driver transporting Scouts gets one night free (two nights if driving Scouts both to and from camp)
[divider top="0″]
Registration
Complete our sign-up form – all participants.
Pay our Treasurer, Tana Hutchison.  If price to attend is prohibitive, campership funds are available for scouts.
Submit medical forms if yours are not current.  These forms are valid for 12 calendar months.
(All adults) Complete Youth Protection training, available on-line.  This certification is valid for two years.  If you have questions, please contact our Training Coordinator, Ana Muir.
[divider top="0″]
What to Bring
Do not keep any food in your backpack or tent, since it would be an attraction for wild animals.  The camp kitchen will provide great meals and plenty of snacks throughout the week at camp.  Several drinks and water are always available too.
[divider top="0″]