To contact Troop 27, please feel free to send an email to us:
[email protected] to request information about joining the troop.
[email protected] for web and technical related questions.
[email protected] to correspond with Troop 27 Scoutmaster.
[email protected] for financial correspondence.

Where & When We Meet
Our weekly troop meetings are held at 7:30 PM on Tuesday evenings at:
Hillsdale United Methodist Church
303 West 36th Avenue
San Mateo, CA  94402
During this time when indoor meetings are restricted we are continuing to meet online.
For more information, please contact us via email (above) or call Scoutmaster Jason Alger(top) or Scoutmaster Edith Cabuslay(bottom) at:
Troop 27 Brochure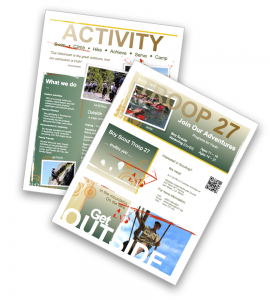 View our Troop 27 Brochure.