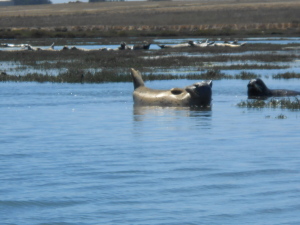 This year we headed to Elkhorn Slough with a group of about 40 Scouts for our Spring canoeing trip.
The Elkhorn Slough is one of 27 National Estuarine Research Reserves established nationwide as field laboratories for scientific research and estuarine education. It is the largest tidal wetland marsh in California after San Francisco Bay.
The Troop took our canoe fleet on a tour of the Slough, giving the Scouts an opportunity to enjoy the local wildlife, while continuing to build on canoe skills.
The weather is was excellent with clear skies so we were able to see some stars and planets in the night as well.