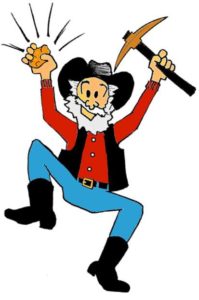 The Troop had another Great "Goldrush" outing this Year.
There were 525 people in attendance this year, over 100 more than last year!
Parking was tight and some of us had to park off site in town and shuttle back but it worked out ok.
Our campsite was Suez 1 and it worked out well!
The weather was GREAT and couldn't have been better!
This year they had 23 events and Troop 27 helped by running 2 of them "Bullet Casting" and Air Rifle – Thank you to Mr. Alger and Mr. Rees!
Mr. You also helped out up at the rifle range with Muzzle loading rifles-Thank you Mr.You!
New this year was the "Saloon" which served "Devil's Canyon" root beer for $.50 a cup and the Scouts could also play cards. They sold out (30gal) of root beer by 2:30pm.
Nick Lee and a few other scouts participated in the Dutch oven cook off (With No adult help). They took 3rd place out of 15 competitors! Great Job Nick!
Khai Kober Took 1st place in the muzzle loading rifle competition! 3 shot group with a 1-1/4″ spread while in standing position!-Great Job Khai!
The Troop decided to stay late today and help breakdown and cleanup after Goldrush.
We started Back at the Rifle range where the Scouts cleaned and organized the range, Next to Tomahawk, Air rifle and slingshot where they did the same!
Next task was to remove all garbage from all the campsites and trash cans at BCSR, What a Task!
Next we put all the Goldrush gear in the storage shed. Then we noticed a HUGE pile of recycling and garbage that needed to be dealt with near the maintenance area the scouts and adults dug in and got it cleaned up in about 80 minutes. The Ranger said this saved him a full 40 hours of work and was so Happy with T-27 that he gave all the scouts BCSR patches and Service Project Rockers. He said that he was going to give T-27 a special Thank You on the council facebook page and that next time we camped at BCSR we wouldn't have to pay for the site!
Next Lunch back at camp!
Then we loaded cars and headed home. But before we could go the Rangers Tractor broke down on the trail near Cubland, no problem T-27 scouts helped him push it down the hill to the parking lot out of the way until he can fix it! He Really liked us after that!!!
We were back to the church by 2:30pm I think most of the Scouts Slept the whole way home!
The Troop had a Great Weekend!
Thank You to the Trail Boss Mrs. Medwid and all the ASM's and Adults that helped get the scouts to "Goldrush"
YIS,
Scoutmaster Ammenti