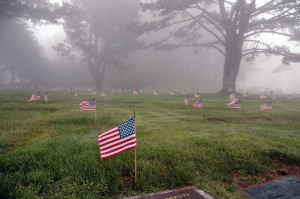 Our annual Memorial Day tradition of decorating graves at Skylawn Cemetery was a success again this year. Always a great turnout with generations of Troop 27 Scouters, every headstone was decorated with an American Flag by just a little after 11AM.
From there many scouts and families drove to Clearlake for the rest of the weekend and Family Camp. Three gorgeous days of canoeing, swimming, and camping, with some cool sprinkles on Sunday morning. No dampening of spirits though for Troop 27!
Around the Bay Area and across the country veterans, scouts, and others place American Flags on every grave to honor those who fought for our freedom.
https://www.sfchronicle.com/bayarea/article/Fallen-veterans-honored-on-Memorial-Day-at-San-13899463.php