November 16, 2013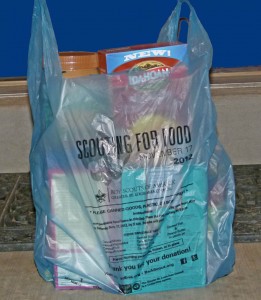 starting from Sandpiper Elementary School, Redwood Shores
Troop 27 scouts come together to gather the food and consolidate it at Sandpiper.  Some parents  then take it to the Second Harvest Food Bank in San Carlos to be distributed.
Every year, members of the Boy Scout program engage in a door-to-door food drive. Not surprisingly, this initiative raises more pounds of food for needy Bay Area families than any other food bank vent. The Scouts tell us that it's always fun and challenging to find new ways to increase the tonnage of food from the previous year.
Be on the lookout for scouts in your neighborhood, and we encourage our communities to support this worth service event.