Sunday, 11/11 at 11:11 AM

Huckleberry Flat Picnic Area #3, Memorial Park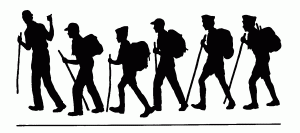 Webelos, Den Leaders and their families are welcomed to join us for a local getaway including:
Hiking the Mt. Ellen Nature Trail (about 2 miles)
Geocaching along the way
Visiting the nature center
Barbeque lunch following the hike
This activity is at the conclusion of the troop's backpacking of the Pacific Skyline Council's Camps Historic Trail.  The backpacking group will finish their trip and join the day-hiking group for lunch.
The park collects $6 for each parked vehicle.  Please pay at the ranger station at the entrance before proceeding to the picnic area parking.
Note that this local getaway is during Veteran's Day weekend and most schools observe the holiday on Monday.
Map & directions to Memorial Park
Please RSVP to ASM Lynda Davidson and we'll see you there!